Original Post :
AFOC
A nuclear warhead had been acquired by the terrorist group Harukat ul Jihad . The intel indicates detonation of the warhead during the U.N. Summit.
Train, gather intel, locate, secure and disarm the weapon of mass destruction.
5 Evolutions Milsim Challenge brought to by H20 Airsoft Team coming up this JULY.
Your CTU unit should be familiar with:
1. Intel gathering
2. Land Navigation or Search - Capture, ambush
3. Vehicle Convoy - ambush
4. VIP escort / Close Protection
5. Bomb defusal
6. Bus assault
7. Route Clearing Operations
8. Rapid deployment
9. Cryptography
EVOLUTION 1: Intel Gathering
FOR AIRSOFT MILSIM ONLY
Briefing on Harukat ul Jihad:
Over the past decade, terrorism has turned Jammu and Kashmir into one of the world's most dangerous war-stricken places. Since 1990, more than 35,000 people have died in political violence in Jammu and Kashmir, and increased U.S. involvement in the area in the aftermath of Sept. 11 stimulated Muslim-Hindu and Muslim-Western clashes. Three primary terrorist groups operate in Jammu and Kashmir: Harakat ul-Mujaheddin (HuM), Lashkar-i-Taiba, and Jaish-e-Muhammad. The U.S. State Department has listed all three organizations as Foreign Terrorist Organizations (FTOs). This essay will survey Harakat ul-Mujaheddin.
Foundation and History
The first organization carrying the name Harakat ul-Mujaheddin was formed in 1985 as part of the jihad against the Soviet invasion of Afghanistan. Most of its original members walked out of another group, the Harakat ul-Jihad-i-Islami (HuJI), and some trace the original members' training to the CIA-led campaign in Afghanistan.
With the Soviet withdrawal from Afghanistan the group concentrated its efforts on Kashmir and Jammu. The Pakistani Inter-Service Intelligence (ISI) stimulated a reorganization of Pakistani-Kashmiri forces, which included a HuM-HuJI merger to form the Harakat ul-Ansar (HuA) in October 1993. Maulana Saadatullah Khan served as HuA leader in the mid-1990s.
This merger apparently failed as Indian forces cracked down on the new organization, arresting three of its leaders within several months. Several attempts to abduct Indian forces and tourists, and to demand the release of its leaders have failed. These attempts, along with rumors of the group's ties to Osama bin Laden reached the United States, which in 1997 officially declared the organization a terrorist organization.
After the U.S. State Department listed Harakat ul-Ansar as a terrorist organization, its ability to raise funding and to publicly recruit diminished significantly. It then changed its official name to Harakat ul-Mujaheddin. In its height, the group acted as a trans-national movement, feeding Islamic fighters worldwide. Lately there have been increasing presence of militants that are not native Pakistanis or native Kashmiris, but those remain the majority.
In 2000, many of HuM members followed Maulana Massod Azhar, a prominent Islamist leader in the area, and joined the new Jaish-e-Muhammad. Since the foundation of Jaish-e-Muhammad, HuM activities have decreased significantly, and recent crackdowns on Islamic militants in Pakistan have left the group under-funded and under-supported.
Goals and Doctrine
Unlike the secular nationalist movement in Kashmir, the Jammu and Kashmir Liberation Front (JKLF), who strive for a total independence for Kashmiris, Harakat ul-Mujaheddin struggles for the secession of Jammu and Kashmir from India and the formation of a pan-Islamic entity under Pakistan.
Operating Methods
Originally, the group was based in Pakistan and operated in Afghanistan. It established its base (as the Harakat ul-Ansar) in Muzaffarabad, capital of Pakistani Kashmir. Lately, under increasing pressure from the Pakistani involvement in the U.S. anti-terrorism coalition, it has moved its operations to Kashmir, and its presence has decreased overall.
HuM members received ideological and military training in Afghanistan and Kashmir, but the fall of the Taliban in Afghanistan forced the group to adjust and close its operations there. The group attacks Indian troops, civilians, and officials, as well as non-Muslim civilians in Kashmir. On Dec. 24, 1999, the group hijacked an Indian Airline flight from Nepal to Afghanistan, which resulted in the release of some of its leaders from Indian jail.
Pakistani authorities have recently arrested three members of Harkat ul-Mujaheddin al-Almi, a HuM sub-faction. The men admitted to carrying out the car bomb attack on the U.S. Consulate in Karachi on June 14, 2002. At least 11 people were killed and tens injured in the blast, which failed to kill any Americans.
HuM members have also participated in operations in Burma, Tajikistan, Bosnia, and other places where Islamic resistance arise.
The group's fundraising efforts concentrate on Pakistani and Kashmiri communities in Europe (mainly Britain), and on sympathizers in the Persian Gulf states.
Leadership
The HuM leader is Farooq Kashmiri Khalil, who received the position from Fazlur Rehman Khalil when the latter stepped down in mid-February 2000. Other figures that held key positions throughout the years: Nasrullah Mansur Langrayal, Maulana Masood Azhar and Ahmad Omar Sheik (who were both released from jail in the 1999 Indian Airlines flight hijacking affair), and Sajjad Afghani (who was killed in a jailbreak attempt in 1999).
In addition, the group is aligned politically with Jamiat Ulema-e-Islam Fazlur Rehman faction, a prominent radical Islamic group in Pakistan and Kashmir.
Pakistani Support and al Qaeda Connection
For years, India has blamed Pakistan of supporting Islamic fundamentalist terrorism in Kashmir through the Pakistani ISI. The Pakistani agency wanted in part to spread Pakistan's pan-Islamic intentions, and in part to shift its support from secular nationalistic Kashmiri elements, which strive for an independent Kashmir apart from Pakistan. Consequently, the ISI has funded members of Islamic groups, provided training facilities, and aided them in crossing the Line of Control in Kashmir. Overall, there is a general agreement that Pakistan helped injecting Islamic fundamentalism into the Kashmiri conflict.
All signs point at a close HuM-al Qaeda relationship. Many of the HuM members have been in Afghanistan, as part of the Afghan jihad or for training purposes. Like al Qaeda militants, HuM fighters turn out in many places where Islamic fundamentalist resistance appears. Khalil has long been linked to Bin Laden, and in 1998 he signed Bin Laden's Fatwa calling for attacks on Americans and U.S. allies. The group has been operating inside Afghanistan under the eyes of the fundamentalist Taliban regime.
Sept. 11 Aftermath
After the events of Sept. 11, the Bush administration increased pressure on Pakistani President Gen. Pervez Musharraf to crack down on terrorist organizations. In response, Musharraf banned Lashkar-e-Taiba and Jaish-e-Muhammad, but did not specify Harakat ul-Mujaheddin. Musharraf did, however, pressed down on many Islamic elements in Pakistan, which ended up in mass arrests of militants. A Sept. 29, 2001 USA Today report described closure of HuM offices in Pakistan under government orders.
Indian officials have continued to claim that Musharraf's acts were merely cosmetic and that militants' infiltration into Jammu and Kashmir continues. The U.S. involvement during the latest standoff between Indian and Pakistani forces forced Musharraf to put a halt to such infiltration. His efforts reduced border crossing and reduced the ability of Islamic groups, such as Harakat ul-Mujaheddin, to recruit inside Pakistan, but Indian officials demand further actions.
The United States recognizes, it seems, that pressure on Musharraf must not be too high as to threaten Pakistani domestic stability. Musharraf's position is delicate to say the least. He seized power in a 1999 coup, and is supported by Islamic elements that are sympathetic to the radical groups. Religious leaders have repeatedly criticized Musharraf's cleanup attempts in Pakistan's tribal areas, where support for Islamic militants is high. "I am trying my best to cool down my party in tribal areas, but things will slip out of my hands if these American-backed operations continue there," said Maulana Fazle ur-Rehman, chief of the Jamiat Ulema-e-Islam, in an interview with The Associated Press. Musharraf's pro-Western agenda in the war on terrorism has raised criticism from within and without, and it seems that allowing Islamic elements to cross into Kashmir is a way for Musharraf to please his domestic criticizers.
Conclusion
At the turn of the century, the five-decade long conflict over Jammu and Kashmir placed Islamic militants in south Asia in a position to stimulate a nuclear war. Both Pakistan and India claim Kashmir as their own, in a conflict where pride and nationalism overcome rational process. American interests in the area, under the Bush administration's anti-terrorism campaign, dictate support of Musharraf's policy. While an alternative to Musharraf, a documented human rights abuser, may be an even more radical government, the Pakistani president seems unwilling to completely eliminate the Islamic fundamentalist militants. In trying to prevent a nuclear holocaust in this most delicate place, luck, it seems, is the best ally Indians, Pakistanis and Kashmiris have.
CIA source was able to trace an email address believed to be used by a member of Harukat ul Jihad
XXX [at] yahoo [dot] com
Your CTU team must crack this e-mail and monitor in coming messages from other terrorist network.
Most importantly that might lead to the missing SS-6 warhead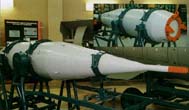 The first Soviet ICBM, the SS-6 "Sapwood" ( Soviet designation "R-7" or "8-K-3"). The "Sapwood" carried a heavy 10,000 lb. three-megaton warhead and on its 21 August 1957 test flight flew 4,000 miles from Kazakhstan into the western Pacific Ocean. The SS-6 was deployed in 1958 and had a range of 8,500 kilometers (5,270 statute miles).
The "Sapwood" warhead was probably first tested in Soviet test No. 47, on 6 October 1957. This test conducted at the Novaya Zemlya Test Range was a 2.9 megaton airburst. This was the largest Soviet test up to that time, and only the third Soviet test in the megaton range. Additional tests in 1958 with yields of 2.9 and 2.8 Mt (18 October 1958 and 22 October 1958 respectively) may also have been tests of this design.
By: sensei of H20 Team

_________________
be a guide, be a friend, be a service
Dahon





Number of posts

: 38


Location

: Camella Homes, Talisay City Cebu


Registration date :

2008-06-20




---
Permissions in this forum:
You
cannot
reply to topics in this forum